DECEMBER NEWSLETTER
Happy December!
The holiday season is here, and we can't wait to celebrate with you. We love this time of year because it's a time for giving—both in terms of sharing our time with loved ones and giving to others who might need some extra joy.
We've been working hard all year long, and that wouldn't be possible without the support of our community. So thank you again for being part of the journey with us! With the new year coming quickly, start it on a strong note. If you are in the market to sell or buy this upcoming year please don't hesitate to reach out as the earlier you start the quicker we can help you out.
We hope you enjoy this season as much as we do, and if there's anything we can do to make it more magical for you, please let us know!
Ally and Dennis



December 1, 2022. A total of 384 properties were sold in the Victoria Real Estate Board region this November, 41.2 per cent fewer than the 653 properties sold in November 2021 and 20 per cent fewer than in October 2022. Sales of condominiums were down 42.4 per cent from November 2021 with 136 units sold. Sales of single-family homes decreased 34.1 per cent from November 2021 with 182 sold.
"November saw a significant decrease from last year in the number of home sales recorded, but this was expected as the market continues to settle after the record-setting pace of 2021," says Victoria Real Estate Board President Karen Dinnie-Smyth. "With a small month-over-month decrease in price, the autumn market has returned to its traditional rhythm as we approach the holiday season. Inventory levels dipped slightly but remain well above this time last year, which is providing buyers with more options."
See the full report HERE.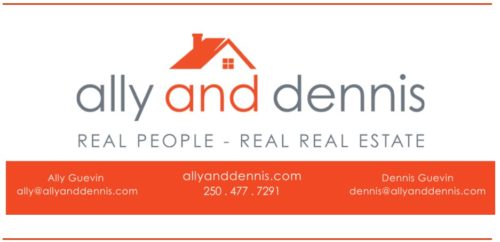 With December slowly approaching, CFAX Santas Anonymous Society is one of Greater Victoria's longest-running children's charities, working diligently to serve families with children in need. It provides much-needed funding for projects and programs that support children, youth (17 and under), and families in Victoria. If you would like to help and contribute there are other options other than donating like volunteering and fundraising whether that's you creating a fundraiser or finding a fundraiser to join. Click the image below to find out more information on how you can give back to children in need and make their holidays something they truly will remember forever.
Look for Ally and Dennis and other DFH Real Estate agents at The Tree of Wishes at Mayfair Mall in December. Exact date TBD.

What's better than the holidays? Festive holiday drinks! Sit at home with your family in front of the fireplace and enjoy the below recipes. Here are 3 holiday drinks you must try this winter season!
Joyful Almond Hot Chocolate
Ingredients
6 cup half-and-half
1 14-oz can of unsweetened coconut milk
12-ounce bittersweet or semisweet chocolate, chopped
1 tablespoon vanilla
1 – 1 1/2 teaspoon almond extract
Marshmallows or sweetened whipped cream (optional)
Directions
In a 3 1/2- or 4-qt. slow cooker combine coconut milk, and chocolate. Cover and cook on low 4 hours or high 2 hours, vigorously whisking once halfway through.
Whisk well. Stir in vanilla & almond extract. Serve immediately or keep warm, covered, on warm or low up to 2 hours. If desired, top servings with marshmallows or whipped cream.
If desired, coat rims of mugs with toasted coconut and top servings with toasted sliced almonds
Homemade Egg Nog
Ingredients
2 cups heavy cream
1 + ½ teaspoons nutmeg, freshly grated
3 cups whole milk
1 tablespoon vanilla extract
3 eggs, room temperature
4 egg yolks, room temperature
⅓ cup sugar
¼ teaspoon salt
whipped cream (optional, for topping)
ground cinnamon (optional, for topping)
extra nutmeg (optional, for topping)
Directions
Place heavy cream and grated nutmeg in a large mixing bowl with a fine mesh strainer on top. Set aside.
In a medium saucepan, combine milk and vanilla. Cook over medium heat, swirling occasionally until bubbles form around the sides and the milk starts steaming.
In another mixing bowl, vigorously beat together the eggs, yolks, sugar, and salt for approximately 3-5 minutes until the mixture is thickened and pale. Add in the milk in a slow stream and whisk to incorporate. Pour the mixture back into the saucepan and cook over low heat, stirring constantly with a wooden spoon for about 6 minutes, or until the mixture reaches 165 F as read on a cooking thermometer. Immediately strain into the mixing bowl with the heavy cream.
Place in refrigerator uncovered and allow the eggnog to cool completely for at least 2 hours.
To serve, pour eggnog into glasses filling only ¾ of the glass. Top with whipped cream, cinnamon, and freshly grated nutmeg.
Salted Caramel Apple Punch
Ingredients
1 gallon apple cider
2 quarts ginger ale
1 cup orange juice
1 cup salted caramel syrup, Torani, DaVinci, etc.
1/3 cup lemon juice, or to taste
4 red-skinned apples diced
4 cups ice cubes, or ice ring, see below
Caramel ice cream topping, for garnish, optional
1/4 teaspoon flaky sea salt, for garnish, optional
Directions
In a large stockpot, combine the apple juice, ginger ale, orange juice, caramel syrup, and lemon juice. Taste and adjust, adding more syrup and/or lemon juice, as desired. 
Transfer the mixture to the refrigerator to chill thoroughly.
Fill the punch bowl and add a ladle for serving or transfer the chilled punch to pitchers.
Chop the apples and add them to the punch along with ice cubes just before serving, or see the tips below for decorative ice alternatives.
Put the caramel ice cream topping or dulce de leche in a bowl and lightly dip the rims of serving glasses. Sprinkle with flaky salt.