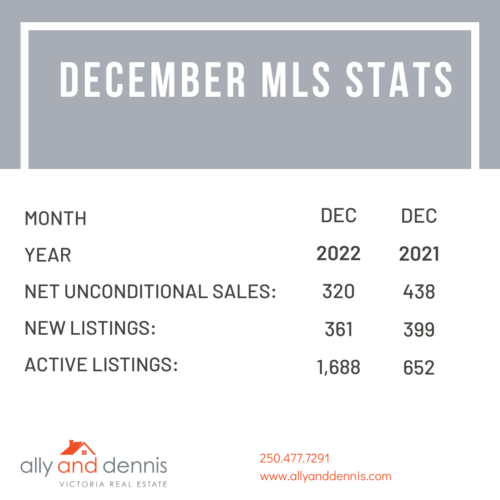 The Victoria Real Estate Board region in Canada saw a decrease in property sales in December 2022 compared to the previous year. A total of 320 properties were sold, a 26.9% decrease from December 2021. Sales of condominiums were down 38.2% and sales of single-family homes decreased by 24.6%. There were a total of 6,804 properties sold in 2022, a 32.3% decrease from the previous year. The market saw a rebound in inventory levels, with 1,688 active listings at the end of December 2022, a 158.9% increase from December 2021. Interest rate increases and the cost of moving and borrowing money are cited as factors impacting demand. 
At the provincial government level, legislation for a 'cooling-off period,' now called the Home Buyer Recission Period, went into effect. This measure is to give home buyers time to consider whether a purchase is right for them. HBRP gives buyers the right to rescind their offer up to three business days after the offer is accepted. If a buyer changes their mind, they must pay a 0.25% rescission fee to the seller.
The Multiple Listing Service Home Price Index showed an increase in the value of both single-family homes and condominiums in the Victoria Core area from December 2021 to December 2022.
If you have questions about the market, we are always here to help.