Spring is in full swing, and the real estate market is heating up!
As we welcome the arrival of spring, it's an excellent time to take stock of the latest developments in the housing market. Whether you're thinking of buying or selling a home, there's much to be aware of in the coming months.
With warmer weather comes a surge in new listings, and we're already seeing an increase in available homes. This is great news for buyers looking to find their dream home, as there are more options to choose from.
At the same time, with mortgage rates holding, buying a home is an attractive option for many. If you're considering taking the plunge, now is an excellent time to explore your options and see what's available in your area.
For homeowners looking to sell, the spring season brings a surge in activity and interest. With high demand and limited inventory, prices remain strong, making this an ideal time to put your home on the market.
As always, we are here to help you navigate the complexities of the housing market and find the best solutions for your needs. Whether you're buying, selling, or simply looking for property guidance, don't hesitate to reach out.
Thank you for your continued trust and support. 
Stay well,
ally and dennis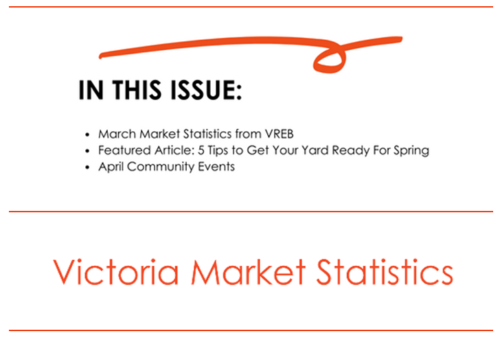 Early spring market reflects consumer confidence and growing demand
April 3, 2023  A total of 590 properties sold in the Victoria Real Estate Board region this March, 29.2 percent fewer than the 833 properties sold in March 2022 but a 28.3 percent increase from February 2023. Sales of condominiums were down 29.4 percent from March 2022 with 197 units sold. Sales of single-family homes decreased 31.8 percent from March 2022 with 281 sold.
"We've seen our sales numbers this month almost double from January," said Victoria Real Estate Board Chair Graden Sol. "As we move further into spring, we expect that the return to confidence we've seen in the market will continue. What we can't predict is what the overall impact on pricing will be if we continue to see quite low inventory across our community. Some pockets of our market are busier than others – by working with your REALTOR® you can better understand the market you are in."
There were 1,970 active listings for sale on the Victoria Real Estate Board Multiple Listing Service® at the end of March 2023, an increase of 8.9 percent compared to the previous month of February and an 85.3 percent increase from the 1,063 active listings for sale at the end of March 2022. "Demand is recovering," adds Sol. "Compared to the end of 2022, prices have firmed up and interest rates have become normalized. Consumers are more active, and we are seeing quite a few multiple offers on well-priced properties.
Inventory continues to trend lower than long-term averages. As our spring market continues to strengthen, we may start to experience some upward pressure on pricing again. We have been talking about the need for supply to help moderate pricing for a long time. Premier Eby's announcement this week about the provincial government's Homes for People action plan reflects an increasing awareness of the importance of supply. We need all levels of government to continue to focus on solving our market housing crunch, so we do not return to the high-pressure markets of the recent past."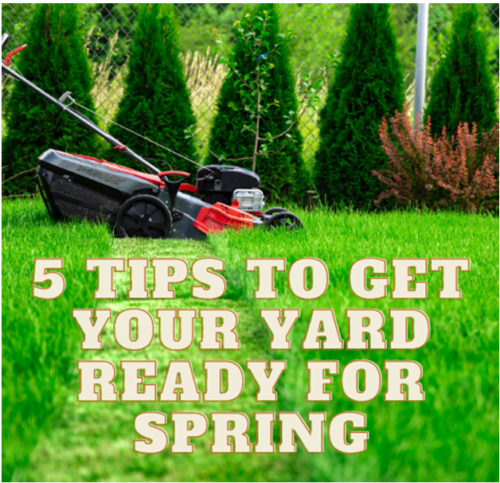 Nothing nicer than a well kept yard. Follow these tips below so your yard can be spring and summer ready!
Clear away debris: Remove any fallen leaves, branches, and other debris from your yard. This will give you a clean slate to work with.
Rake and aerate the soil: Rake the soil to remove any dead grass and to loosen the soil. Aerate the soil to allow air, water, and nutrients to reach the roots of your plants.
Prune trees and shrubs: Trim away any dead or damaged branches from your trees and shrubs. This will help promote new growth and maintain the health of your plants.
Fertilize the soil: Apply a balanced fertilizer to your soil to provide your plants with the nutrients they need to thrive. Make sure to follow the instructions on the fertilizer label.
Plan your garden: Take some time to plan out what you want to plant in your garden. Consider the amount of sunlight your yard gets, the type of soil you have, and the climate in your area. This will help you create a beautiful and healthy garden that you can enjoy all spring and summer long.